Projects
A customer focused philosophy
The innumerable projects handled by us for some of India's leading engineering and heavy industry companies have been completed within the stipulated transit time and were executed with finesse. The projects viewed by you on our website are only snapshots of the work we have actually executed.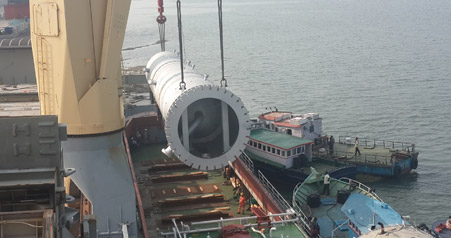 SAL HLV mv Maria called Cochin Port on 24th December 2014 to discharge the first of the 2 x 338 mtons HDS reactors for BPCL Kochi refinery expansion.
Each reactor measured 36.85 x 5.35 x 5.20m.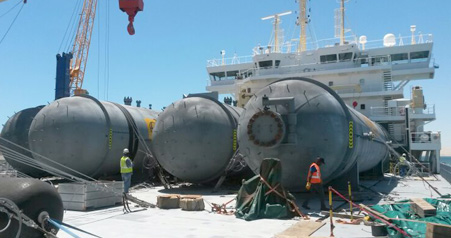 6 nos. Steam Accumulators each 25.1 x 5.10 x 4.85m / 259mtons total 3725 cbm / about 1554mtons.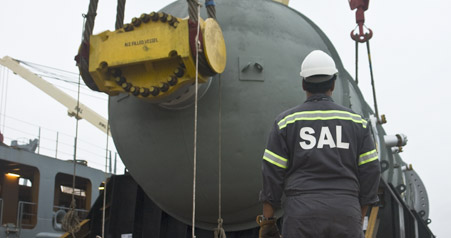 In July 2009, we broke the record at Mumbai Port by loading the heaviest piece – 1010 mtons – from Mumbai to Eleusius, Greece.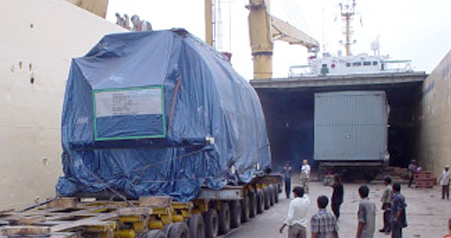 Multimodal Transportation Contract India to Jordan
Cargo included a 280 mton Generator which was shipped from Chennai via RORO vessel
(the first for Chennai Port).
Total 5000 cbm Power Plant Equipment transported from Mumbai, Jebel Ali and Chennai to Aqaba Port and thereafter to UN Nominated site in Jordan.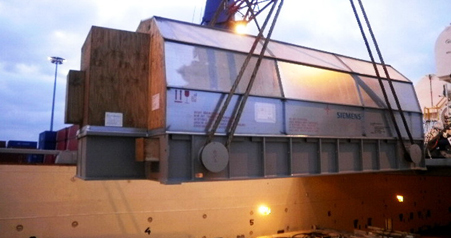 227 mton Turbine measuring 9.90 x 3.93 x 3.65m transported from Akon to Hamburg by Barge and thereafter on SAL Heavy Lift (a member of the K Line group) vessel mv Paula to Pipavav.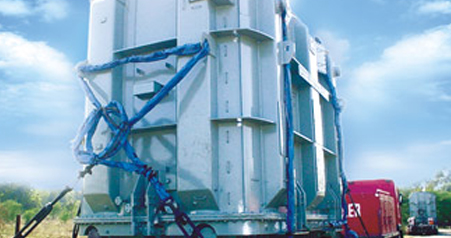 Transformers from Bhopal to Kafue Gorge, Zambia
Total 10 Transformers each weighing 92 mtons alongwith accessories were picked up from shippers manufacturing works at BHOPAL, India to Mumbai Port for shipment to Richards Bay, South Africa.
Hydraulic axles and low bed trailers were employed to transport the Transformers to Kafue Gorge Power Station in Zambia.
The Transformer tanks were delivered to the turbine hall which was located at the end of a tunnel (the entrance door of the tunnel is about 5000mm opening and 4900mm in height) about 1 km long. As the height of the Transformer Tank was 4000mm, it was a difficult operation but successfully managed.
The old Transformers were also shifted out of the Turbine Hall and transported to a storage site which was located 6 kms away on an uphill road.
Contract was completed in stipulated transit time.