Agency
Equipped with the finest talent in the industry, we offer you round-the-clock Agency services at all major and minor Indian ports.
India is among the most strategic locations in Central Asia as multiple ships pass through the area every year. Being one of the major shipping hubs and ports around the region, makes India an ideal location for ship owners.
Taking the proximity to its advantage, Sai has developed a full-house agency service and a dedicated team which will answer all your queries and is very conscious about time saved for owners, charterers and clients. We have excellent and long-standing relationship with local authorities and vendors facilitating hassle-free port visits for your ships.
Some of our key service attributes include:
Trusted & reliable partnership
Excellent relationship with authorities
Professional, well-experienced, skilled & dedicated team
Quick turn-around of vessels & cargo, ensuring operational efficiency
Constant connectivity with ship owners / operators & charterers
Expertise to handle vessels of a diverse range
Network of owned offices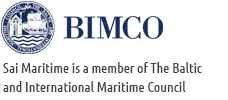 Download Brochure