SAL Heavy Lift, is one of the world's leading carriers specializing in sea transport of heavy lift and project cargo.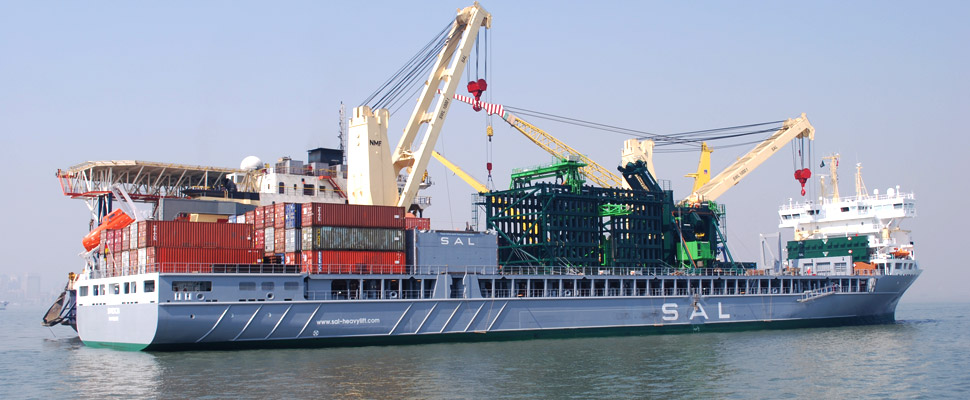 The company has been fully dedicated to heavy lift shipping for the past 35 years. Founded as a family business with four vessels, located on farmland outside Hamburg in 1980, SAL Heavy Lift has grown into a major international player in heavy lift shipping and offshore, owning and operating a fleet of heavy lift vessels.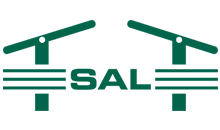 Today, headquartered in central Hamburg and with offices in eight countries, SAL has developed from a tramp shipping line into a project shipping and offshore installation business partner. In 2017, the company was fully acquired by the Bremen-based Harren & Partner Group.
The company uses a global network of offices and representatives to provide bespoke solutions to clients from a wide variety of industries. Thanks to long-standing experience, integrated best practices in HSEQ (health, safety, environment and quality) as well as highly trained crews and in-house engineering teams, SAL provides safe, innovative and reliable transport solutions, with respect for the environment.
Within the new ownership of Harren & Partner, SAL continues its tradition. Harren & Partner is a mid-sized family-run business with over 25 years of shipping experience and a fleet of 70 vessels. As the new flagship brand, SAL will strengthen the portfolio of Harren & Partner, owning and operating an enlarged fleet of multipurpose vessels.
As a leading company in the heavy lift and project cargo segment, SAL Heavy Lift meets the highest standards with regard to quality and technical innovation. This has made them a reliable partner for customers from a wide variety of industries worldwide. SAL Heavy Lift offers three business services: Semi-Liner Shipping, Project Shipping and Offshore Installation.
SAL has experience in transporting diverse cargoes such as:
Oil & Gas / Offshore Equipment
Wind Energy (windmill) components
Cranes: For construction, Railroad, Ship Unloaders and Port Gantry
Heavy Machinery: Railway Locomotives, Diesel Engines, Press Machines, Mining Equipment
Power Plants: Turbines, Generators & Transformers
Floating Cargo Yachts, Patrol Boats, Tugboats, Dredgers and Submarines
SAL Heavy Lift upholds the highest standards with respect to HSEQ. All vessels are certified as conforming to ISO 14001 and OHSAS 18001 standards. Vessel Type 183, 176 and 116 have Environmental Passports confirming this compliance.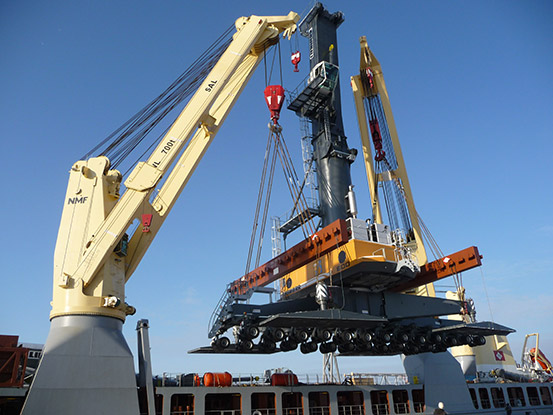 Sai Maritime is the exclusive agent for SAL Heavylift in India since 1986. Our strong partnership has stood the tests of time and volatile markets to emerge as one of the most reliable and dependable carriers offering a fleet of 19 modern heavy lift vessels calling India on an average of 2-3 sailings per month, both East and West bound.
The vessels range from 8919 to 12500 (metric tons) DWT (dead weight). The lifting capacity for these vessels range from 275 mts to 2000 mts SWL (Safe Working Load).
SAL's extensive experience coupled with SAI's strong Indian presence and in-depth knowledge of the Indian market make us the first choice as a proficient partner for the safe delivery of all types of Heavy, Over Dimensional and Project cargoes.
Together we support you with a fleet of ultra-modern and purpose-built vessels which are self – geared, competitive freight rates, in-house customised engineering solutions and personal supervision from the planning stage to successful completion supported by highly skilled crew on board.
SAL Heavy Lift and SAI Maritime have together won many accolades and awards, as well as broken many records at Indian ports.
For more details please refer to SAL's website : www.sal-heavylift.com