SAL's M.V.Lone Performs a Coastal Loop
MV Lone was passing West Coast India enroute to her next employment in the Far East and the opportunity to take on this shipment was present.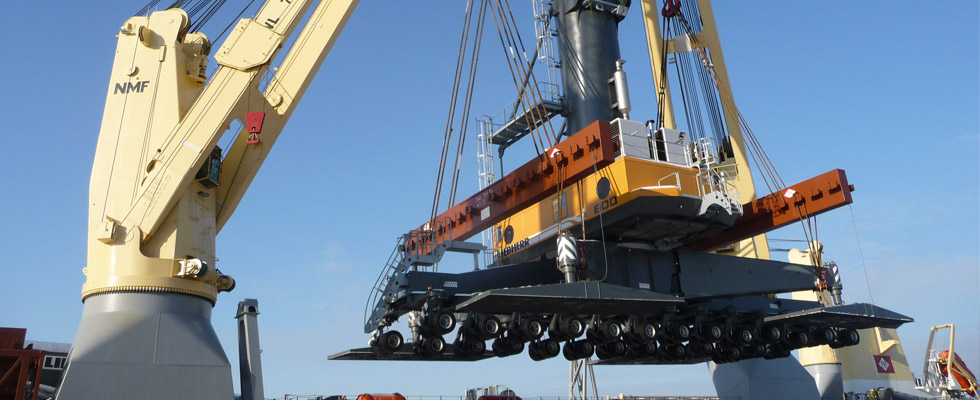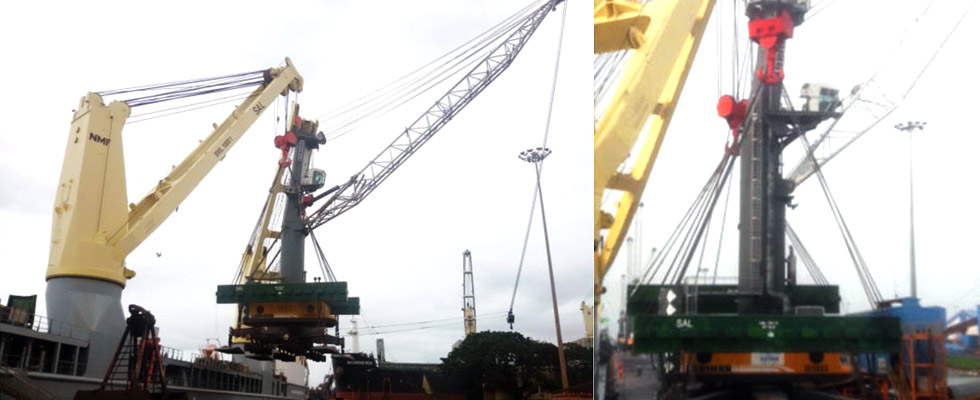 It's a matter of being at the right place at the time - SAL's Type 183. M.V.LONE (Built March 2011 - 12500 mts DWT - cranes 2 x 1000 mtons SWL - fitted with DP2) was the perfect match for the movement of 3 fully assembled Used Mobile Harbour Cranes to be shipped from New Mangalore to Kakinada and Visakhapatnam.
Quick fixture negotiations through SAL's Indian partner Sai Maritime resulted in a win-win situation for Carriers and Merchants.
Necessary approvals from INSA and The Director General of Shipping - were in place in a matter of a few days , thanks to the on-line application procedures.
The vessel arrived New Mangalore on 30th May, berthed on arrival and was ready for loading within 24 hours after all due preparations were made by the super-efficient crew.
The first crane LHM 400 with a main unit weight of 413 mtons was loaded and secured, followed in quick succession by a 2nd similar Liebherr crane. All counterweights were removed for sea transport. Extra precautions and due diligence were taken to ensure that both cranes were lashed and secured for the voyage which was expected to be rough due to the approaching South West monsoons.
The 3rd crane LHM 550 was loaded at Kakinada to be discharged at Visakhapatnam.
The entire voyage was completed in 14 days and the Charterers were extremely happy with the vessel's performance.
SAL vessels are regularly plying on the Indian Coast transporting Project cargo which sometimes cannot be transported by road due to overdimension / overweight. Shipping these heavy lift cargoes on a specialized heavy lift vessel is a safer and more efficient means of transport.
All Projects
Download Brochure
"

We would like to thank you and your entire team for the (again) great cooperation and outstanding support along with the recent employment of MV Klara in several concerned Indian ports.

"